Read Time:
3 Minute, 37 Second
Manifesting abundance and financial stability is a common goal for many individuals. While there are many ways to achieve this, one effective method is through the use of a Money Spell Jar. This spell is designed to attract wealth, prosperity, and abundance into your life, and can be easily created using a few simple ingredients. In this guide, we will walk you through the process of creating and using a Money Spell Jar, so you can start manifesting abundance and financial stability today.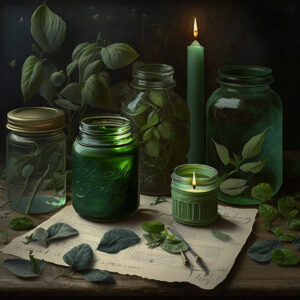 Materials You Will Need
Before you start, you will need to gather the following materials:
A glass jar with a lid
Green candles (preferably three)
Coins (preferably pennies)
A piece of paper and a pen
A piece of green cloth or ribbon
Basil, mint, or bay leaves (optional)
Step 1: Cleanse and Charge Your Jar
Before you start your Money Spell Jar, it's important to cleanse and charge your jar. This will help to remove any negative energy that may be present and ensure that the jar is ready to be used for spell work.
To cleanse and charge your jar, light a green candle and place it next to the jar. Then, take a moment to focus on your intention for the spell. Visualize the jar filling up with abundance and financial stability. Once you have a clear image in your mind, hold your hands over the jar and say the following words:
"I cleanse and charge this jar with positivity and abundance. May its power bring me financial stability and wealth. So mote it be."
Repeat this three times and then blow out the candle.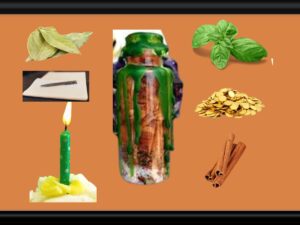 Step 2: Fill Your Jar with Coins
Once your jar has been cleansed and charged, it's time to fill it with coins. You can use any type of coin, but pennies are a traditional choice for Money Spell Jars. Fill your jar to the top with as many coins as you can. As you do this, visualize your jar filling up with abundance and financial stability.
Step 3: Write Your Intentions on a Piece of Paper
Take a piece of paper and a pen and write down your intentions for the spell. This could be a specific amount of money you would like to manifest, a desired financial goal, or simply a general wish for abundance and financial stability. Fold the paper and place it inside the jar, on top of the coins.
Step 4: Add Herbs (Optional)
If you choose to, you can add a handful of basil, mint, or bay leaves to your jar. These herbs are associated with abundance, prosperity, and financial stability, and can help to boost the power of your spell.
Step 5: Seal Your Jar
Once your jar is filled with coins, your intention paper, and any herbs you have chosen to use, it's time to seal the jar. To do this, take the green cloth or ribbon and wrap it around the lid of the jar. Tie it into a bow and make sure it's secure.
Step 6: Light Your Candles
Light your three green candles and place them around the jar. Sit quietly and focus on your intention for the spell. Visualize yourself already having achieved financial stability and abundance. See yourself happy, fulfilled, and without financial worries. Repeat the following words three times:
"Wealth and prosperity, come to me. Abundance and financial stability, be mine now"
Step 7: Place the jar at the right place
Once the candles are finished, you need to place the at a place where you keep your money or money related documents like cheque book and all. Make sure to keep it hidden so that nobody sees it.
You may re charge your jar on every full moon by taking the same out and light a new candle on the lid of your jar.
blessings
Mind, Body & Soul Doctor
Psychic Medium, Paranormal Expert, Spiritual Counselor, Life Coach, Relationship Healer, Wiccan Spell Caster
Website: for Tarot and Divination:  http://www.indiatarot.com,
for Wicca & Witchcraft Courses:  http://www.wiccaindia.com
for  Wicca / witchcraft shop you may like to visit : shop